SECOND SUNDAY SOUNDS AT SIX (SSS@6)
Join us for our FREE community recital series held on the second Sunday of the month at 6pm, at the McCall Community Congregational Church, 901 1st. Street, McCall Idaho
MAY 2023
BOISE CELLO COLLECTIVE: Experience four fabulous cellists, Dr. Jake Saunders, Micah Claffey, Philip Kettler, and Dr. Brian Hodges and hear their unique ensemble play. You will witness special classic to the Beatles and Radiohead along the way. We've waited seven years to get them back!
JUNE 2023 
TREE CITY CHAMBER PLAYERS: The trio of Melanie Keller, flute, Ryan Klein, oboe, and Chad Spears, piano, have orchestrated another special night of music this year including
Idaho's renowned opera couple
,
mezzo-soprano Michele Detwiler and baritone, Jason Detwiler. From Rogers & Hammerstein to Carmen, Lakme and Bach!
AUGUST 12, 2023 – SATURDAY PONDEROSA LUDWIG TERRACE
The McCall Music Society changes venue and date to bring back by popular demand CROSSCURRENT. This fabulous Jazz Quintet rocked McCall last summer! They are back hard swinging, contemporary, acoustic, and straight-ahead jazz playing. It the best Night Club experience you will have outdoors!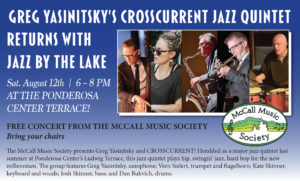 SEPTEMBER 2023 
Harris / Hemenway: Classic organ and jazz piano make for a great evening with Tom Robin (TR ) Harris on the organ and G. Louis ( Gary ) Hemenway on the piano. TR, a retired professor of music, is known not only as an organist of renown but also as a great pianist. Gary Hemenway has written and arranged numerous instrumental pieces in every style from classical, film score, to gospel, jazz, pop, and he rocks the piano! 
OCTOBER  2023
GUITARIST
THOMAS RODRIGUEZ RETURNS TO MCCALL: Tomas Rodriguez is a favorite in McCall! He is a New York City based guitarist who has developed a unique repertoire for guitar performance that is rooted in his ancestry and guided by the diverse styles of music that have inspired
him.

These include the folk music of Galicia, Spain and the music of Venezuelan harp masters.