SECOND SUNDAY SOUNDS AT SIX (SSS@6)
Join us for our FREE community recital series held on the second Sunday of every month at 6pm, at the McCall Community Congregational Church
Second Sunday Sounds at Six and the McCall Music Society are bringing you a variety of great music in 2020. 
Sunday January 12th, you will have the opportunity to experience piano and cello played by two very distinguished and well know music teachers and players, Dr. William Wharton and Linda Wharton. If you have not heard cello accompanied by piano you need to take advantage of Sunday's performance. If you are aware of the magical beauty of such a duet you especially will want to come. An amazing program awaits you!
William Wharton is Professor Emeritus of Music at the University of Idaho and holds advanced degrees from University of Oklahoma and the University of Arizona.  Linda Wharton has performed as a soloist and recitalist throughout the Northwest.  She was principal cellist of the Washington Idaho Symphony for 35 years and is a graduate of the Interlochen Arts Academy and University of Wisconsin. 
"A great community deserves great music!"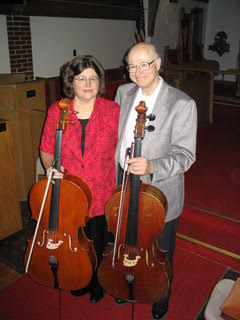 Join us on Sunday February 9th for a wonderful String Quartet.  More details coming soon….