Saturday, July 18 at 11:30am
A Musical Tour of the Solar System with Barbara Morgan

SummerFest Orchestra with Barbara Morgan, narrator
Made possible by The Laura Moore Cunningham Foundation.
The orchestra will present a free concert on Saturday morning, offering area families the special opportunity to experience the excitement of an orchestra in person. Astronaut and former McCall schoolteacher Barbara Morgan will be your guide through the solar system, narrating her program accompanied by stunning NASA photography in tandem with an abbreviated presentation of Gustav Holst's The Planets. Children will be invited to learn more about the musical instruments after the program's conclusion.
Mountain Life Church
14180 Highway 55, McCall ID
FREE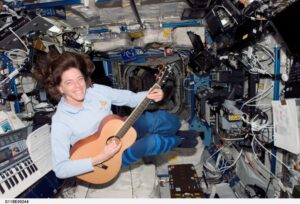 Barbara Morgan, former elementary school teacher in McCall, Idaho, was selected to serve as back-up to Teacher in Space Christa McAuliffe in 1985, and trained with the crew of the space shuttle Challenger. After the Challenger accident, Barbara returned to the classroom and continued working for NASA's education division until 1998 when she was selected as an astronaut, the first educator to become an astronaut. In August 2007, she served on the crew of mission STS-118 and flew on the space shuttle Endeavour to help construct the International Space Station. 
Barbara joined Boise State University in 2008 after a 10-year career as a NASA astronaut and 24 years as a public school teacher. She taught in McCall for 22 years; in Quito, Ecuador; and on the Flathead Indian Reservation in Montana. As a member of Boise State's Division of Research and Economic Development, she represented the university and provided vision and leadership to the State of Idaho, primarily in STEM education. Her work included policy and program development, advocacy and mentoring. She used her experience as a classroom teacher and NASA astronaut to initiate and cultivate university and K-12 opportunities, locally and nationally. She is Distinguished Educator in Residence, Emeritus, Boise State University.